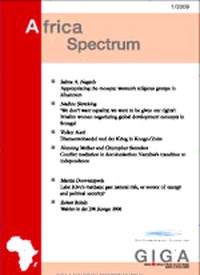 Do you work, research or study in an Africa-related context?
Are you interested in an exchange with colleagues from Africa and other regions of the world?
Would you like information about research organisations or publication opportunities?
Become a member of the VAD and help shape the future of African Studies in Germany!
This is what we offer:
An international and multidisciplinary conference every two years with 400-500 participants at changing locations
A print edition of Africa Spectrum, the only Africa scientific journal published in Germany
Competition for the best final thesis on an African studies topic
Competition for an essay on Africa
VAD toolbox for research and publications
Reduced conference fees for VAD members
Every member is of course entitled to vote at the general meeting of the VAD!
The membership fee is 40 EUR per year. Students of African Studies can also apply for membership. For them the membership fee is reduced 17,50 EUR per year. Please use the possibility of direct debit.
Please note: the main language for communication of the Association as well as the language of the application form is German. The membership fee has to be paid by bank transfer to our German account. Only if the board ackknowledges your membership application and only if we receive the first payment of your membership fee the membership becomes valid.
Contakt
VAD e.V.
c/o GIGA Institute of African Affairs
Neuer Jungfernstieg 21
20354 Hamburg
+49 (0)40 42 825 – 595